BakeitFun Non-Stick Silicone Baking Mats
Product Information
Price: $11.97
To purchase: click Shop now below
How about making your culinary life just a little easier and more convenient by making use of these fantastic BakeitFun Non-Stick Silicone Baking Mats.
What I am showing you here are the two sheets in two beautiful colors – red & blue. which I received in nice, sturdy boxes.
They come in good, sturdy boxes, and these baking mats are perfect for hostess gifts, stocking-stuffers and for your gourmet, culinary, and foodie friends, they make a lovely gift as well. Think about presenting your friends and family with a couple of these amazing mats for Mothers Day, birthdays, or for students who are just beginning to cook on their own.
These mats measure 15.5 x 11.5 inches, so they fit perfectly in any of your large, metal baking sheets. There is also a convenient measuring ruler that runs alongside the outside edges of these silicone mats.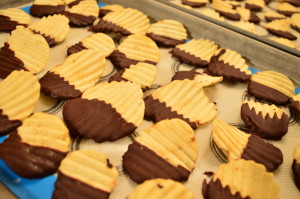 Even the messiest of your baking jobs easy to clean up when using BakeitFun Non-Stick Silicone Baking Mats, and best of all, they prevent food from sticking. The mats are used with the printed sides up. Cleaning the mats is easy too, as any baked-on food is quickly removed from the sheets by washing them in warm, soapy water. This way, you can quickly use them for another job, if needed.
They can also be washed in your dishwasher on the top rack, if you so desire. Never again will your cookies or other baked goods be difficult to remove from their baking tins.
BakeitFun Non-Stick Silicone Baking Mats
have clear indications as to where to place your cookies, as well as allowing for varying sizes of cookies.
These baking mats are easily rolled up or laid flat for convenient storage. Your BakeitFun Non-Stick Silicone Baking Mats will quickly become a favorite kitchen helpmate, saving time & energy. Everything just slides and glides off of these amazing mats.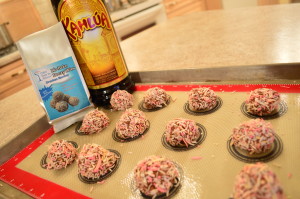 They say that by using these baking mats, you can save $800 over a period of 10 years, 63 cans of cooking spray, or 3879 parchment paper sheets. There are up to 2000 uses with these silicone mats – a fantastic benefit.
These sturdy, premium, silicone mats are FDA approved, BPA-free and German food grade approved.
They can safely be used in the microwave oven right on the glass. One caution is not to place the mats directly on your oven racks, on gas or electric stove tops, or BBQ grates. Always use them on a baking sheet or cooking tray.
The mats can be used in temperatures from -40 degrees F to 450 degrees F, from freezer to oven. In our household, we use these mats in some way, nearly every single day.
These mats can be used to keep your baking sheets clean when you are cooking meats as well, so you can keep clean-up at a minimum. In addition, some of the uses we have found for utilizing these mats are when baking desserts, meats, fish, pizzas, roasting veggies, and when making candies, as well as many other things.
It is not necessary to wash these mats after every use, but when you do choose to wash them in warm, soapy water, be sure to air dry them. Then, use a few drops of a cooking oil of your choice, on a cloth or kitchen paper towel to lightly coat the mats. This ensures they are ready to go, so you can use the mats to your heart's content, until the next time you wash them.
Cooking Shows: BakeitFun with Kimberly
Note: Make sure you do not cut any food on these mats – it would be a disappointment to ruin one of these great BakeitFun Non-Stick Silicone Baking Mats.
Save