Goldenberry Seeds – aka Peruvian Ground Cherry
Goldenberries one of the "best kept secrets" out of South America! Also known as Peruvian Ground Cherries, these juicy berries are sweet, plentiful & addictively delicious. Easy to grow plant for your kitchen garden!
Product Information
If you've never delighted in a Goldenberry – aka Peruvian Ground Cherry – before, it is a treat you don't want to miss out on.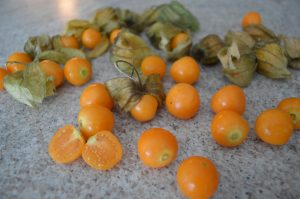 These plants these little berries come from are easy to grow in warm weather, even in the summer of colder locations. Plants can be brought indoors over the winter, if necessary. One plant yields numerous berries.
Goldenberries are firm, sweet, tangy & definitely have a unique flavor of their own. The seeds are small and edible.
Perfect fresh as a snack, in desserts, salads, sauces, and even paired with roasting meats.
Check out our Goldenberry Recipes & Cooking Shows:
Playlist: Goldenberry Recipes + Reviews - aka Peruvian Ground Cherry
Grow your very own organic Goldenberries at home!
Save
Save
Save
Save
Save