Product Information
A gorgeous variety of passion fruit, Granadillas are larger, with a bright orange, hard, outer shell.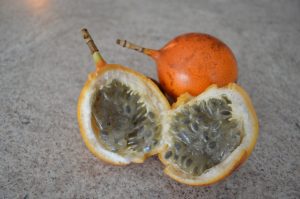 Inside, a granadilla has juicy, plump seed pods inside, with edible seeds that are delightful, in their own right.
This plant is a vine, and its lovely leaves have medicinal value as well. These plants are easy to grow in warm weather, even in the summer of colder locations. Plants can be brought indoors over the winter, if necessary.
Granadillas are wonderful eaten on their own as a snack, added to cocktails & desserts, and exquisite sauces can be made with these beauties as well.
My favorite part of a granadilla are its seeds – I just love how they crunch! This fruit is another best kept secret from South America!
Check out our Granadilla Recipes & Cooking Shows:
Playlist: Granadilla Recipes + Reviews
Grow your very own organic Granadillas at home!
Save