Passion Fruit Vine Seeds
Passion Fruit is my very favorite fruit on the planet! They are easy to grow & the leaves are medicinal too!
Product Information
Passion Fruit is my very favorite fruit on this planet – it's like a jewel from the gods!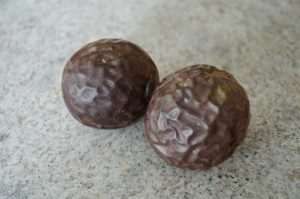 Underneath a semi-hard shell, a squishy, protective layer encases the jewels within. There are pods of juicy pulp with the most delightful, crunchy seeds – maybe my favorite part of the whole experience.
All you need is a spoon to leisurely scoop out this treasure, after plucking a passion fruit from the vine.
Passion fruit flowers, leaves, stems & fruit – anything above the ground – has been used medicinally for centuries by the Amazonians.
The leaves of the passion fruit are emerald green with a waxy appearance, and the vine produces gorgeous flowers. There are different varieties of passion fruit, ranging in colors of yellow, orange, purple and nearly black outer shells. Passion fruit vine is a great climber, and is a lovely plant all around.
* Note:
The
granadilla
is a variety of passion fruit with a vine yielding fruit that is bright orange in color with greyish pulp & crunchy seeds.
Of the health benefits this plant graces us with, it is of particular note that they are used to avert seizures & tremors, as well as having sedative & pain relieving properties. Plus, tea made with passion fruit vine is delicious!
Passion fruit vine is a tropical plant, and likes very warm weather, but they can be happy indoors during the winter, in colder climates in a sunny window or supplemented with a grow light.
Check out our Passion Fruit Recipes & Cooking Shows:
Playlist: Passion Fruit Recipes + Reviews
Grow your very own organic passion fruit vine at home!

Save
Save
Save
Save