Maradol Papaya Tree Seeds
Papaya trees are not only beautiful & tropical, the fruit they grow is juicy & exciting, as well as being healthy in so many ways!
Product Information
Maradol Papaya is a beautiful variety of tropical, fruiting tree, which is beautiful to look at, and produces wonderful fruit.
Juicy & exciting, maradol papaya is NOT a genetically modified variety of papaya, and is easy to start from seeds.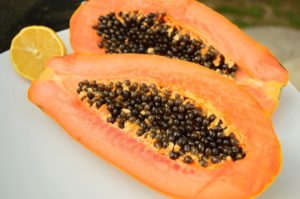 For warm & tropical climates, papayas can be planted directly outdoors. For colder climates, like ours in Canada, they love the summer outdoors, but must be brought in over the winter.
Not only are the fruits of the papaya ridiculously delicious, the leaves may be used medicinally for many different ailments & health benefits! Plus, the seeds are edible, and can be used as a cooking spice too!
Chock full of vitamins, minerals & vital enzymes to keep a body happy & healthy, papayas are a super food in their own right.
Powerful antioxidants help fight free radicals that can cause havoc on your body, including your heart health. Anti-cancer properties have been found from consuming papaya, as well as having anti-inflammatory uses. Papaya aids in digestion & protects your skin from damage!
Check out our Papaya Recipes & Cooking Shows:
Playlist: Papaya Recipes + Reviews
What's not to love about maradol papayas?
Save
Save
Save
Save
Save
Save